So you want to give your partner a blowjob that'll make his knees weak? Yeah, we've got you covered! We're so well-versed in the art of giving great head, in fact, that we've compiled a mega blowjob guide with 50 blowjob tips. In just five to ten minutes (or as long as it takes you to read the mega blowjob guide), you can transform yourself from zero to hero.
Whether you're giving your first ever blowjob, have some experience, or are simply looking for new ways to improve your skills, we're sure you'll find something useful in our blowjob guide! 
Are you ready to take him wild? Great, let's start…
Blowjob Tip #1: Setting the Mood
Anticipation is key! So instead of jumping to and heading straight for his shaft, create a sensual and sexy mood that'll get him hard before you start giving him a blowjob. This will make the experience even more exciting. This could be done by touching, kissing, or licking his other erogenous areas, such as the neck, thighs, neck, and/or ears. 
Blowjob Tip 02: Be Vocal
You can make your partner more rousing by using your sexy voice, depending on his preferences. You could tell him, "If he's more submissive, you can give him these instructions: "Sit down and take your pants off," Or "Put your hands behind your head". Or, if he's not such a fan of taking instructions, you can tell him about the things you're about to do or are doing, or ask him questions like, "Do you like it when I…" or "How turned on are you right now?"
Blowjob Tip 03: Breath Play (A Different Kind…)
We don't mean having him or you withhold your breath, but we do mean using it to your advantage. You can start to give him a blowjob by licking slowly and seductively along their shaft. Then, gently exhale on him. If you've got breasts, you could also glide your Nipples over him too.
Blowjob Tip #4: The Better the Weather
There's just no denying it, wetter is better! There are many ways to keep your shaft juicy. You can spit on his shaft so he can see it drip down or you could spit onto his hand when you give him a drink. Handjob. Dry hands can make it difficult and even painful for the user. If you're not such a fan of spit, or you have a dry mouth, you could make use of your favorite lube! You can also find a variety of flavor lubes to make it even more appealing.
Blowjob Tip 5: The Shaft vs. The Head
The most sensitive part of the penis is the head, especially under the rim, which means that when your tongue whirls around this sexy spot, it'll be an instant mood enhancer. You can use your hands and your mouth for jerking his shaft. If you're new at this, or perhaps your partner is a bit on the larger size, you can stick to this method. If you are comfortable doing this, you can change the way you do it later by putting more of the shaft in your mouth. 
Blowjob Tip 06 – The Rhythm (of the Night).
Consider your oral sex. Masturbation routine. Are you able to use a rhythm that gets you there? Most of the times, this is true. So, when you're giving him a blowjob, be sure to keep to a nice rhythm. If you're using your mouth and hands, try to keep them both going at the same rhythm (in the same direction will make it less confusing for you). To make it more interesting, you could add some twists to your routine. For example, twisting your wrist in a particular direction to get his engine revving. 
Blowjob Tip 7: Lips vs. Teeth
You've probably heard it before, in real life or in a film or TV show, "Ahh! Teeth!". When it comes to blow-drying your hair, the general rule is to put your lips before your teeth. In fact, let's just say that the absolute rule here is: no biting! Try pulling your lips over your teeth during 'the deed' to avoid any biting or accidental discomfort for him. It's not too hard to do if you imagine that his penis is a popsicle!
Blowjob Tip 8: The Erection
If he suddenly He loses his erection while you're giving him a blowjob, try not to take it personally. It's not a reflection of you, and there are a handful of valid reasons why he may have gone soft. His erection can be affected by stress, tiredness and medication. You can try to find a different pleasure or take a short break.
Blowjob Tip 9: All Five Senses
We've already mentioned that being vocal is great (not just words, moans too!), but don't forget about the rest of your five senses. Light a few Scent candles You can add a beautiful perfume or cologne to your room for the scent and ambience. Or add a bit of flavored lube for extra flavor, and take a few cheeky glances into his eyes during the blowjob… it'll drive him wild (more on that later).
Blowjob Tip 10: Cheeky Action
We mentioned that you could imagine yourself licking a popsicle to add even more pleasure. Now, think about when you're really going for that sweet treat and your cheeks go concave. Yeah, that's an excellent trick to use while giving him a blowjob.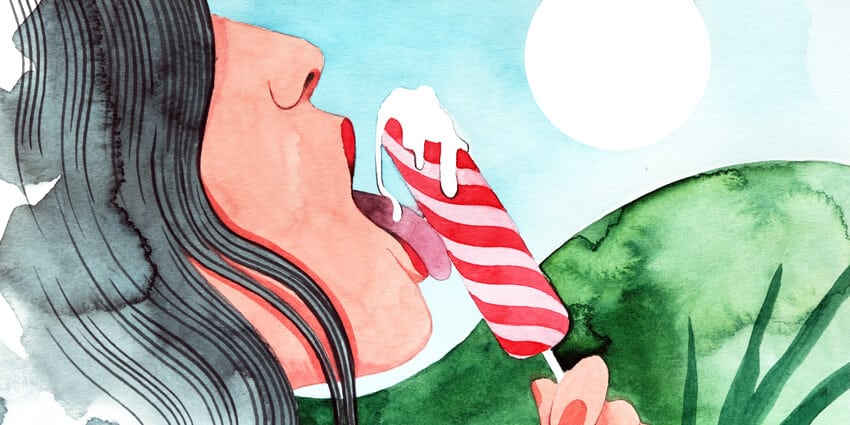 Blowjob Tip 11: Doing a 'Good Job'
Because everyone derives pleasure from different things… and expresses said pleasure in different ways, there's no 'official' way of knowing that you're doing a 'good job' (well, unless they literally tell you!). If you're wondering if your partner is enjoying your art, look for signs of grunting, heavy breathing, or hip thrusting. Or, if you're a talker, go ahead and ask if they're enjoying it!
Blowjob Tipp 12: Eye Contact
There's just something so erotic about looking into your lover's eye while giving them a blowjob. It's usually a massive turn-on for him as he watches you give him head, and watching his pleasure will, in turn, often aid in even more arousal for you.
Blowjob Tip No 13: The General Area
Blowing up does not have to be about jerking and sucking the shaft. It's actually a whole lot more erotic if you go for the surrounding areas, such as the balls and the perineum. Men also enjoy anal pleasure. Gentle licks, and/or the use of your hands and fingers to touch these areas can give men that extra boost they may need.
Blowjob Tip 14: Relax & Enjoy or Bring It to a Halt
Confidence is the key to sexiness! Claim your sexiness and trust in your skills, it'll not only make the whole experience hotter for both of you but will also create sexier energy. If you're feeling nervous or uneasy, your partner will most likely pick up on it. In this case, if you're too uncomfortable, communicate this to your partner. You don't have to do anything you don't want to do.
Blowjob Tip 15: Taking Breaks
Dry mouth, tired hands, tired in general… if you feel a little bit overwhelmed, you can always take a break! This doesn't mean you have to end everything abruptly. Instead, you can make your way to another area of his body or suggest that he return the favor.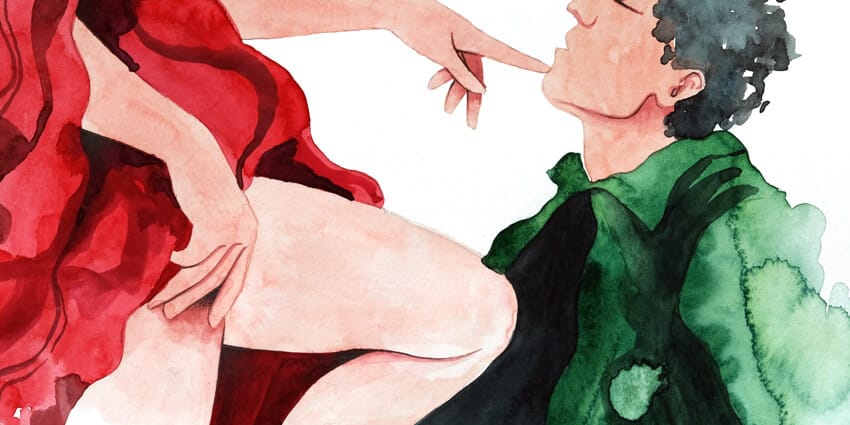 Blowjob Tip 16: There's No One-Size-Fits-All
There isn't a manual on how to give the best blowjobs in the world because, well, an amazing blowjob is subjective to the receiver. Some people love this, some like it. This is why there is no 'wrong way' to give a blowjob. When you're with a new partner, it's about experimenting and exploring Their likes and dislikes, and finding out what their The perfect blowjob is.
Blowjob Tipp 17: Stroke
Everything
!
While you're stroking His shaft, remember that his ego would adore a bit of stroking too. It's true that many men are concerned about the size of their penis, so use your words, sounds, and enthusiasm to let him know that his penis is the "biggest, best, and most beautiful you've ever seen".
Blowjob Tip 18: Don't Like Giving Head? Then Don't!
Consent is the best way to get sex. If you don't like giving blowjobs or you just don't feel like doing it at one particular moment, don't! There's absolutely no reason why you'd ever need to do something you don't want to or don't feel comfortable with. If that's a deal-breaker, then he's definitely not the one for you.
Blowjob Tip 19 – Deep Throat
Deep throat…some love it, others hate it. It has the potential to trigger a gag reflex. A gag reflex can be a hit or miss on the erotico-scaling scale. Some men may love it when their partner gags, and that might increase the giver's arousal too. But if gagging is something you're not a fan of, say so or stop. As anxiety can trigger gagging, this will be good for everyone. That means that if the giver isn't having a great time, they'll feel even more uncomfortable. On the other hand, if you're wanting to Deep throatWhile brushing your teeth, you can practice your gag reflex. While brushing your teeth, imagine yourself not gagging. This should eventually reduce your gag reflex.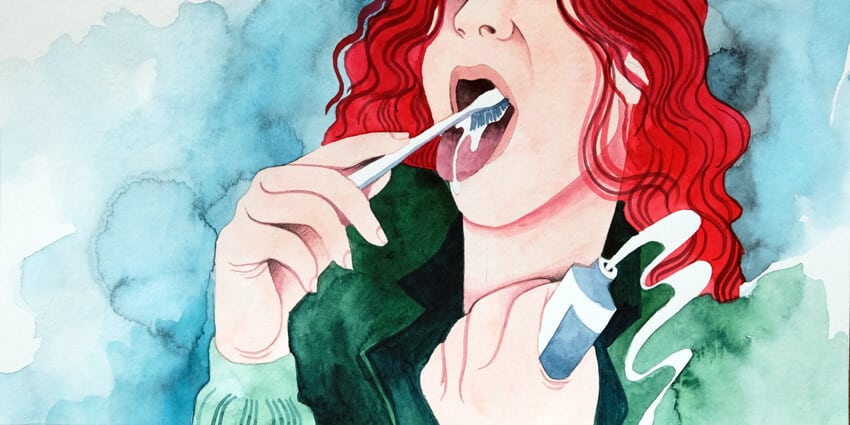 Blowjob Tip #20: Deep Throating to Remove Dry Muth
Did you know that when we're choking, our body produces more saliva? This happens in an effort to save our lives. So, when you're giving a blowjob, you can actually get rid of that dry mouth if you decide to deep throat. 
Blowjob Tip 21: Some Men Don't Like Blowjobs
We like what is good for us. Some people love KissingOthers love it. You may like receiving oral, but maybe you don't like giving oral. Individual differences in sexuality and sensuality can be fluid. With that, your partner may just not like receiving a blowjob… and that's fine! Don't take it personally. Why he doesn't like them. If he's comfortable enough to tell you, he will. Sometimes it's just a matter of preference, other times there could be an underlying reason for it.
Blowjob Tip 22, Spit or Swallow
Men should ask before ejaculating anywhere or in the vicinity of their partner. If you're aroused by the thought of coming in her mouth, inside of her, on her body, or on her face, this should be something that's discussed and agreed upon before playtime. This is the act that you respect your sexual boundaries. If you're not a fan of cum, that's totally fine. It doesn't have to mean anything else other than the fact that you just don't like semen. However, for those who enjoy swallowing semen, it is safe to do so. However, some STIs, such as gonorrhea, can be transmitted by oral route. HIV However, oral transmission is only possible if there are open sores in the mouth.
Blowjob Tip 22: Hygiene
A good rule of thumb is to wash your mouth before getting an oral. And for men who haven't washed their penis and scrotum with soap and water, a build-up of dirt and bacteria can occur. This can cause a bad taste in the mouth and increase the risk of transmitting STIs. If it's a touchy subject to bring up, why not suggest Take a bath together Before all other fun starts?
Blowjob Tip 24 – Tongue Texture
A blowjob typically includes hands, mouth, tongue, and lips. Because it provides warmth, texture and wetness, your tongue is crucial in this sexy trio. It's a feeling that's hard or impossible to replicate. It's a good idea to keep your tongue soft as you go up and downwards on his shaft. Your tip of your tongue, which is great for the frenulum and penis heads, is also a good technique. You might find a change of pace interesting by doing a few tongue flicks if you are feeling the need.
Blowjob Tip No 25: Purple
Don't get freaked out, nothing is going to turn purple (well, we hope not at least). But sex experts suggest that if you act as though you're about to say the word 'purple' whilst giving oral, your lips will create a little pout that's irresistible to most penis-owners. This position allows for soft, curved lips and great suction. 
Blowjob Tip 26: An Extra Lil' Something
A blowjob does not just involve the penis or scrotum. There are many other erogenous areas nearby that can drive him insane. For example, nerve endings are abundant in perineum (the area of skin between scrotum und anus). And then, of course, there's the prostate, which is located inside of the anus. Talk with your partner and find out if they'd like to experience a different kind of sensation during your next oral sex adventure. Be careful! go slow, use a lot of lube, and stop if you're feeling uncomfortable.
Blowjob Tip 27 – Smells
We all have our own unique scents, regardless of what part of the genitals we are using. This is natural and expected. This is normal and expected. For that reason, don't expect your partner's penis to smell like roses and sunshine because it won't. This is not to say it will have a bad smell (unless they're unhygienic!), but if you're uncomfortable with the day-to-day smell that a penis accumulates after being inside pants and/or underwear all day, opt for a sexy shower together.
Blowjob Tip 28 – Uncircumcised
Uncircumcised penis refers to a penis that has the foreskin covering the penis' head not removed. This foreskin will cover the penis when it's not erect, but pull back when erect. Some may be nervous to give their uncircumcised partner a blowjob, but there's really no need to be. Foreskin actually contains sensitive nerve endings that allow him to experience more pleasure. You should be gentler. Use minimal suction, play with the foreskin lightly by massaging or pulling it back, and don't forget to give the shaft some love too.
Blowjob Tip 29 – Circumcised
The thing about circumcised penises is that they're sans a foreskin, which means that all those extra-sensitive nerve endings aren't there. That doesn't mean that they don't have any nerve endings, or that it's impossible for them to be aroused (absolutely not). It does however mean they might be more inclined to want things like deep throat. 
Blowjob Tip No. 30: Safe Blowjobs
While blowjobs are generally safe, there are still risks. It is a good idea to get checked with your partner before you go out, and to use a condom for any after-dark activities. The plus side is that Use a condom during oral will allow him to come inside your mouth without actually coming inside your mouth (if that's what you're both into). 
Blowjob Tip 31 – A Different Ball Game
Remember that the balls are as important and sensitive as the shaft. You should pay extra attention to them. You will find that the level of your penis' sensitivity is different from one person to another. Ask or practice and you will discover what makes you feel great. Gentle licks can be wonderful for some people, while others may enjoy having their feet massaged.
Blowjob Tip 33: Massaging the balls
You can gently hold your partner's hands and massage his balls. This creates a 'running water' kind of effect, which may be highly erotic for the receiver. You can also gently squeeze them by giving them a soft squeeze. Or, grab your trusted vibrator You can tease his ears with rumbling vibrations. 
Blowjob Tip 33: Don't Forget the Frenulum
The underside of your penis' tip, the frenulum, is where the shaft meets the glans. This area is full of nerve endings and is often the most sensitive. It is worth rubbing your tip of the tongue gently against his frenulum to get him to feel more awake. 
Blowjob Tip #34: Suck and Blow
To create a new type of sexual sensation, you can lick your partner by gently teasing on one part of his penis and then blowing lightly on the wet areas. This will produce a cooling sensation and is a great way to get started on your blowjob.
Blowjob Tip 35: Submissive Blowjob Position
When it comes to blowjob positions, you could follow the style that's unique to the two of you. For example, if you're more SubmissiveYou could even get down on your knees so that he is in front of it. dominant You should feel for him. If you really want to go a step further, you can have your hands tied behind your back, be naked or topless, or make eye contact with him.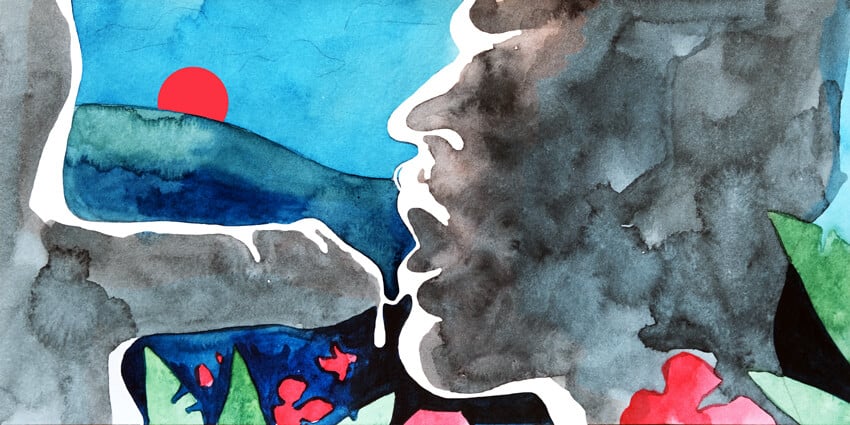 Blowjob Tip No 36: Dominant Blowjob Post
If you're wanting to take the reins, acts such as pushing your man onto the bed, getting on top of him, and running the show is a sexy way to be dominant. You could even handcuff your man if you really want to get into the action. Blindfold While you're out in town, he will be there.
Blowjob Tip 37 – Give and Take
It doesn't matter if you like blowjobs. you're not always going to have the favour returned. And that may be fine for some who don't particularly like receiving oral. For those who enjoy sexual contact, it is important to not view them as a way to give in exchange for receiving. Sharing is technically caring.
Blowjob Tip 38 – Time is not the Essence
There's something so tantalising and sensual when there's a build-up of excitement. Instead of rushing to bite your lips, you should tease your partner and make sure you are praising him before you take his mouth in. You don't need to rush. Instead, take your time and enjoy the whole experience. If you're feeling rushed, the receiver may pick up on that energy, making it less sexual for them.
Blowjob Tip #39: Foreplay Is Fun Play
So often, we're taught to believe that penetrative sex and orgasm is the big prize, but in actuality, it's the whole journey. Foreplay You can do so many things with your mouth, from oral sex to massaging. Sex games for couples, kissing, fondling, Couple sex toys And so much more. There doesn't have to be any penetrative sexual sex. You can make sex whatever you want.
Blowjob Tip 40: Enthusiasm Earns You a Gold Star
Like we mentioned, when you're rushing a blowjob, your partner may pick up on it, which could literally be a boner killer. That's why we recommend getting yourself into the right headspace to give head. You can start by starting with a few. Texts that are not clean if you're in the mood, which may lead up to a meeting and all kinds of fun play? Because if you're giving him a blowjob when you don't really feel like it, you're probably not going to enjoy it and you may not do such a good 'job'.
Blowjob Tip 42: Over-the Pants Action
Another foreplay technique that's great to build up the erotic tension is to rub him over his pants, after a few sensual grabs and fondles elsewhere. Allow the anticipation to build as you get closer to the crotch. 
Blowjob Tip 42: Is His Penis Happy?
If you or your partner aren't very verbal during oral, take your cues from his penis. If it jumps and throbs, then it's happy. If there's pre-come involved, it's very happy. You can then guide yourself according to how his penis feels, and what you're doing to make it so very happy.
Blowjob Tip #43: Face Fucking
When you're at a point where you're comfortable with your partner, and you give them full consent to do so, allowing them to take control of the blowjob can be a huge turn on. They can also move your head to make it more interesting. This definitely isn't for everyone, so this is merely a suggestion for those partners who are intrigued to give it a go.
Blowjob Tip 44 – Edging
Edging It's a simple technique that almost everyone can benefit from. It's basically when you bring your partner (or yourself) to near-climax, and then remove the stimulation to give yourself a little breather. In this way, you're building up the orgasm even more, resulting in a pretty magical release. Give it a try the next time you're giving your partner a blowjob and see how they like it!
Blowjob Tip 45: Orgasm Denial
The realm of BDSMOrgasm denial is similar, except that you don't take a break when your partner is at the peak of their sexual power, but you do stop. This practice is most commonly enjoyed by dominants and submissives and is a form power play and ultimate sexual control. Orgasm denial is a more extreme form of sexual control.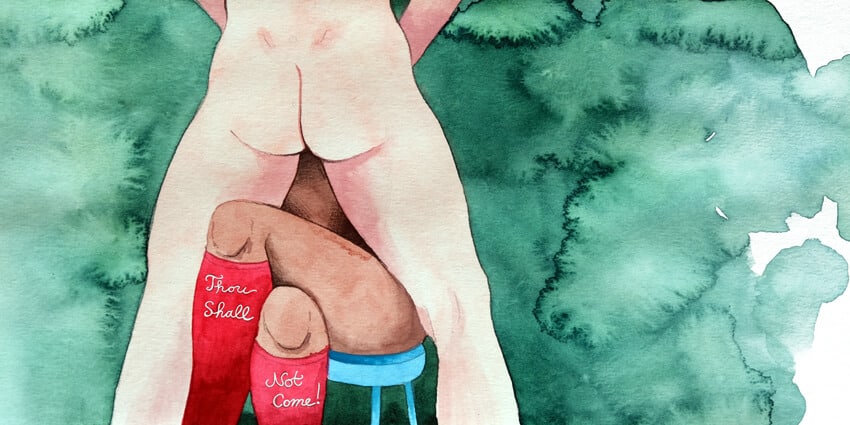 Blowjob Tip 46
CBT stands for 'Cock and Ball Torture', and granted, it is an extreme practice, so it's not for everyone. This involves inflicting pain on the penis and testicles by either kicking, spanking or squeezing. And while this isn't directly a blowjob tip, if both partners are interested in giving it a go, it is something you may want to experience during foreplay. 
Blowjob Tip 47 Footjob
You could add a footjob to your blowjob routine for a twist. Although this is a more intimate practice, some may find it very stimulating to give and/or get. This involves one person using their feet to rub and stroke their partner's shaft. It's similar to a handjob, yet involves using the feet instead of the hands. 
Blowjob Tip 48. Cock rings
Blowjob Tip 08 explains that there are many reasons why penis owners may not be able to get and stay in the business. It happens! You might consider incorporating a cockring to your playtime. This handy device is worn by him. It constricts the blood vessels in his penis to make it easier for him to stay longer. There are many innovative options. Cock rings There are many options, including rings for couples and vibrating ones. The even better news is that it's great to use during blowjobs but also during penetrative sex!
Blowjob Tip49: Temperature Play
You want to try a new type of stimulation? Temperature play refers to when different items are used in foreplay to create different sensations. Different items can stimulate the skin's neuroreceptors, causing a rush for those who are experiencing the stimulation. Some people find it very unpredictable, which makes it even more exciting. Temperature play This includes using ice, candlewax, glass sex toys or warming/cooling Lube.
Blowjob Tip50: Consent Is Sexy
The final tip for blowing? Consent is sexy! These are just suggestions, guidelines, and recommendations for enjoying sexual activity between consenting adults. Consent means that both the consenting adults agree to sexual activity. Consent can be given or taken away at any time and doesn't need to be verbal. Be attentive to your partner and their body language. Don't forget to stop when consent is revoked.
With consent, all of the above can be enjoyed… and so much more!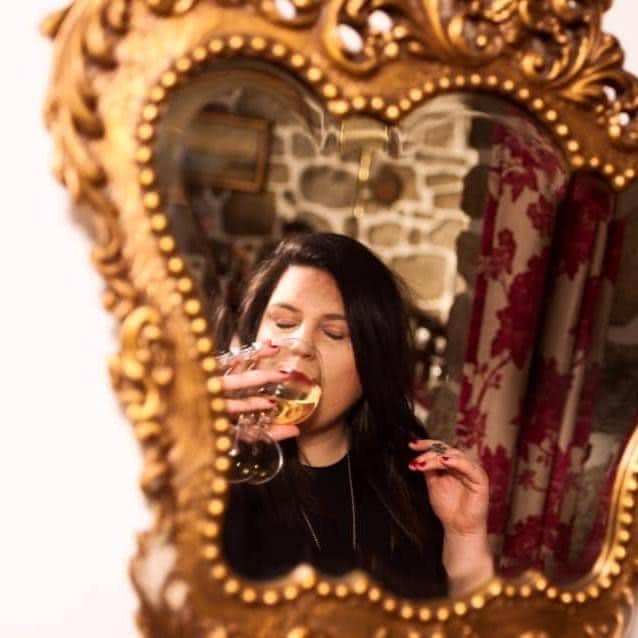 Helena is a sex-positive freelance copywriter in her early 30's from Cape Town, South Africa. She's travelled and lived in various countries in Asia and Europe for almost a decade, and continues to live her dream — traveling the world independently as a copywriter. She has extensive experience in the fields of sexual health, escort and sex marketing, having written for many magazines and companies within the industry.