Maybe you've seen deep-throating in videos and want to try it for yourself, or perhaps you're looking to blow a partner's mind (among other things) with a new trick in your sexual arsenal. No matter what your motivation is for deep-throating, it's not something you can just jump into—it takes a bit of practice in order to do it safely and comfortably.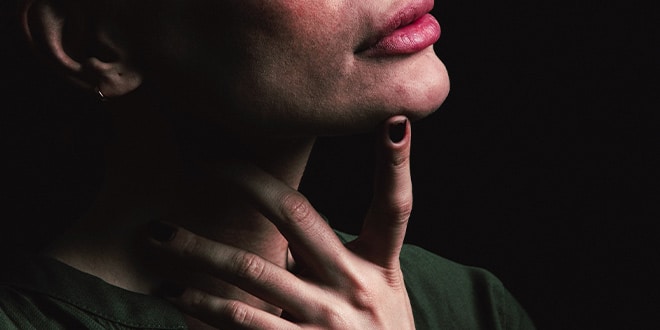 What is deep-throating, you ask? Deep throating, for those not familiar with it, is a form of blowjob In which the donor allows the penis to reach deeper into the recipient's throat, beyond their mouth. For some, the deep-throater is a way to feel dominated. Deep-throatees claim that it's a tighter sensation and likewise may enjoy the dominating aspect. 
No matter what your motivations are, you should know that not everyone can do a deep-throat blowjob. While you're not born with the ability to stick a cock down your throat, with the proper training and patience, just about anyone can do it.
Deep Throat Training
Start with your fingers. Begin by inserting a finger into your mouth as far as possible. You will eventually gag, so stop for a second before you start again. You can also try this with your toothbrush to get deeper. This is a way to relax your body when you are near your gag area, or even go past it. You should not deep-throat with food. I know that bananas and hot dogs look perfectly suited for this particular practice, but foods are much easier to break off and become lodged in your throat, so just don't. 
Practice while you are at it Repress your gag reflexIt is important to remember to breathe through the nose. If you keep getting a steady flow of air, it will help lessen your body's gagging response. Gagging is your body's way of trying to clear your air passage, after all.
Deep-throating is a part of porn stars' professional repertoire. They claim that they can advance their deep-throating training with a sex tool like a suction cup dildo before moving onto the real thing. Attach the suction cup to the wall at an appropriate height. Try to get the girth as realistically as possible. This practice will help you determine if you want to deep-throat real penis with an actual partner.
To do deep-throating, you will need a suction cup dildo. Make sure to spend more money. Material for sex that is safe for the body. If you don't, you could end up forcing dangerous chemicals down your throat.
How to Deep Throat the First Time
Before getting started, make it clear to your male partner that you'll be the one in control. That means that he cannot use his hands in case he tries forcing your head where it shouldn't be. Also, he must agree to not thrust his penis while it is in your mouth or towards your throat. This is especially important when you're getting started with deep-throating. These rules will become more flexible as you improve your skills. But when it happens and how far is completely up to you.
Get into position. Although he is most comfortable in the 69 position, you can also blow him while he is on his knees. Because he can't thrust up very easily and his hands are busy holding your hips, the 69 position allows for a deep-throat blowjob. This allows you to control the speed and depth. And if your penis naturally curves upwards, it will glide down your throat much more easily.
After you've completed your first deepthroating, you can progress to more advanced positions. For example, lying on your stomach with your head hanging over the edge of your bed is a good position. This position allows you to feel more comfortable and gives you more control over your male partner. Only graduate to this deep-throat sex position if you've got complete trust in your partner.
This will hopefully get you started in deep-throating. You're going to enjoy the satisfaction of pulling off one of the more advanced sexual techniques, and your partner is going to likewise enjoy the satisfaction of a truly mind-blowing climax.
---

Colin Hanna is a Volonté contributor and freelance writer who lives in Shanghai, China with his wife. He's written extensively about sex and human sexuality for LELO since 2010.