If you're familiar with the world of BDSM, then you've probably seen the community of BDSM practitioners who love to tie each other with elaborate rope knots and hang in the air.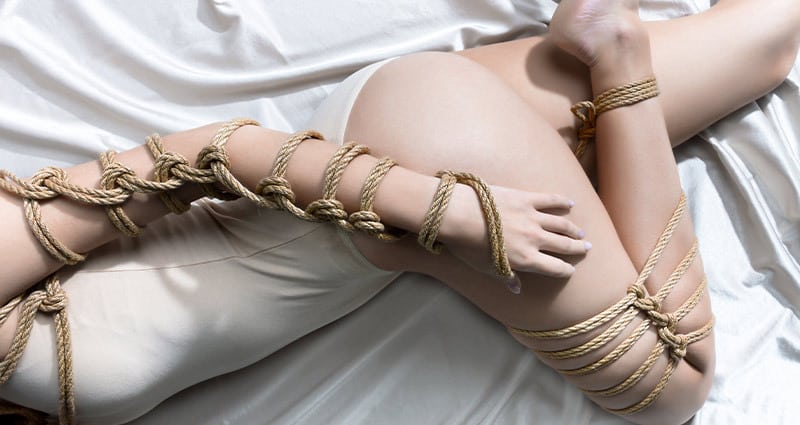 This BDSM practice, called shibari (Japan), was first developed and has enjoyed a steady increase in popularity in the west over the years. 
Today we're going to talk about the history of it, what shibari truly is and how to practice it safely at home if you've been curious to experiment with new bedroom activities. 
So what exactly is Shibari?
Shibari can be described as Japanese rope bondage. It's a contemporary BDSM practice of tying one up with rope for sexual and aesthetic purposes. The word shibari in Japanese means "to tie."  
Shibari's True Story
Many sources claim that shibari's origins can be traced back to Edo period Japan, when Samurai used Hojojotsu martial arts to tie prisoners in ropes before either dragging them into prison or executing the men in front of the crowd. 
It's a very noble and beautiful origin story for a bondage practice. However, it's not entirely true and doesn't show the full picture. This portrayal of shibari roots is problematic and encourages cultural appropriation. 
"There's a whole lot of romantic mythology online that gets propagated, that [shibari] It's very romantic. It's very heroic, even. It is a form of Orientalism, a racist flattening Asian and Japanese culture from outsiders. [it]," explains MidoriShibari expert and author Japanese Bondage: Seductive ArtThe American Shibari Practice is the First Book. 
Midori explains that while Shibari bondage is believed to have originated from the heroic actions of Samurai and ignores the hardships and wars that occurred in medieval Japan, Midori claims that it is harmful. 
Shibari has been practiced in Japan for hundreds years by sex workers. You could see rope bondage in theatres. All of this was done by ordinary people and not noble Samurais. 
Shibari's popularity has been influenced by the success of Japanese magazines. Japan has an extremely high literacy rate. "In the early and mid-20th century, there are already several magazines and periodicals about bondage and BDSM in general. Sniper and Kitan Club are two well-known BDSM or bondage magazines of this era," Midori writes (1).
"The warm gooey source of modern shibari is rooted firmly in the pleasure quarters, sex work, and the erotic strategies of ordinary people," she explains. It's important to acknowledge the true roots of shibari, even if it doesn't have the same romantic appeal as the version of martial arts and Samurai.  
What's the Difference Between Shibari and Bondage?
Online sources also provide conflicting information regarding the distinction between shibari (or regular western bondage). However, before we discuss the differences between the two (or lack thereof), we need to define BDSM. 
BDSM is commonly described as the practice and discipline of BDSM, dominance and submission. Sadism and masochism are also some examples. But that it's a very basic translation of what each letter of BDSM means. 
"BDSM is childhood joyous play with adult sexual privilege and cool toys," Midori explains. It's all about your fantasies of dressing up as superheroes and celebrities you grew up idolizing and embracing your sexuality by allowing yourself to explore different plays and scenarios in the form of various kinks. 
There is really no difference between Japanese bondage and western bondage we're used to seeing in media. Shibari is a form of bondage that falls within the BDSM umbrella, much like spanking or restraints. 
"Chains, gags, and rope are all tools. These are not the practice or BDSM. As with any BDSM dynamic or play, please choose the best tool for the job at hand," explains Reverend RuciferReiki Bondage was founded by, an expert in shibari. 
Shibari's Appeal
Shibari appeals to many people for many reasons, including the aesthetic appeal of sex and using Japanese bondage to meditate.
Trust Building
It is a sign of trust that your partner will tie you up and make it impossible for you to move. This can be a great way of working on that aspect of your relationship. 
What's great is that trust-building between partners starts way before they even enter the bedroom or pick up the ropes. Actually, it begins the moment you sit down and talk with your partner to discuss your desire to learn shibari.
"I encourage all to come to a place of a mutual desire to then find clarity of consent in what will and will not occur during the scene," explains Rev. Rucifer. "This immediately begins to build trust between partners as there is a promise, or an agreement made before the session even begins." 
As you move forward with your desires and fantasy of bondage, you'll continue to experiment with how far your trust with your partner goes, allowing you to open up and be more vulnerable with each other. 
"As we release and trust our partner through this process, we become vulnerable, and it is through this place of genuine trust and vulnerability that the bonds of connection strengthen and deepen," says Rev. Rucifer.
But there is more to the story. Trust between partners should be established before having sex for any first time. This includes communication and consent. In cases like this, shibari isn't a tool for trust-building, as it technically should already be there.
Because of the lack sexual education and issues regarding sexual consent we still face, some people might not be able establish boundaries and communication lines when it comes to sexual sex. Shibari may be the place that they first experience trust-building and boundaries. 
"Unfortunately, many people have come to BDSM or shibari [and] Perhaps [its] This is their first time that they have been allowed to say no. That is why shibari can be misinterpreted as trust building. Well, shibari might've been the first chance you've had the opportunity to speak up," Midori explains. 
It's So Much More Than Sex
It might look like Shibari is all about sex, just as we assume that BDSM is all about bedroom play, but it doesn't have to be, and for many people, it is so much more than that. The Japanese bondage is a way to spend time with your partner and get to know them better. 
"In most of my experiences, rope bondage is not about sex at all," Rev. Rucifer says. "Inherently, there are elements of power exchange, intimacy, trust, vulnerability, and communication which can create a deeply moving experience for all participants."
Shibari could also be used to encourage better communication between you and your partner. 
While it's not exclusive to Shibari practice alone, but when you're forced to work together and experience a new sexual practice, it's natural that you'll need to verbally communicate your likes and dislikes and listen to your partner at the same time, which can, in turn, better your communication. 
The Power Play
Power play makes up a large portion of BDSM appeal. Rev. Rucifer says, "the experience of power exchange happens from the first moment of play and conversation when partners share their desires and what they would like to explore in the rope bondage scene."
Shibari allows couples to have fun and play with power. The top role will be taken by one partner, and the bottom role will go to the other. 
"As the top begins the scene, they are the leader or the one in an "up power" position. The bottom, or receiver, then releases their control to the top, often creating a sensation of surrender or submission, depending on the dynamics of your relationship," Rev. Rucifer explains how this works.
However, the powerplay doesn't always have to be in this particular way. Rope bondage can sometimes be achieved by sharing equal power between two people. 
"If you're putting a rope on me and I'm receiving your rope, we can also do that from an equal place," Midori explains. "That's like, 'Hey honey, I want to be tied up. It feels good. I've been really stressed out and responsible, so can you just tie me up and do me.' That's equal."
It is possible to reverse the power exchange. Sometimes, the person who receives the rope (the bottom), can actually be the one in control, and the rope-giver must agree to the terms. 
"'So we're going to play sex games, and I'm going to be the boss of you tonight, but I'm going to order you to tie me up exactly how I want it. And if you don't do it, how I like it, I will be so disappointed in you.' Now, who has the power?" Midori elaborates on the reverse powerplay. 
You can be the bottom, the one receiving the rope, yet you could still be dominant in the couple because your partner that's tying you up is the one doing it because you ordered them. 
How to Safely Practice Shibari With Your Partner
The practice of Shibari can seem intimidating at first glance. It is difficult to master the rope knots or hang from the ceiling without prior experience. 
But unless you're a shibari artist and performer, there is really no need to tie complex knots and hang your partner from the ceiling in just a few steps:
First and Foremost – Communicate
Before you embark on a journey to exploring this Japanese bondage practice, it's important to have an honest conversation about your desires and fantasies with your partner. 
"I would encourage all partners who are considering exploring rope bondage to first be able to speak openly and clearly about their desires, limits, and needs, and have confidence in being able to speak up during a scene or session, should anything not feel right at the moment," recommends Rev. Rucifer.
Depending on how comfortable you're with communicating your sexual needs, you could start the conversation outside the bedroom, in a comfortable and casual setting, where there is no pressure to agree to something. 
Safeword
Regular practitioners of BDSM will know the value of the safeword. You might find it useful to create one for your first time when you attempt shibari. 
In Japan, people who practice shibari for entertainment don't usually practice safewords and other crucial parts of safe BDSM play. "Negotiations, boundary setting, sobriety, and safe words are not the norm in Japan. In this, Americans have led the way in crafting clarity in communication skills," Midori writes (1).
However, if you're new to BDSM and just started exploring the world of bondage, you should not skip this step. You and your partner should agree on a safeword to make bonding easier. Also, a pair of good-quality scissors wouldn't hurt. 
Educate yourself
Safely exploring shibari requires that you educate your partner and yourself about the subject. Also, learn the best practices for beginners.
It's also important to know all the risks of using rope in the bedroom, as it's not the same as using a silk scarf or fuzzy handcuffs. "First and foremost, rope bondage is dangerous," says Rev. Rucifer. "Physically, there is a risk of permanent injury, nerve damage, marking, and falling." 
Shibari poses a number of physical and emotional dangers.
"On the emotional level, there is a risk of breaking trust or violating consent, as well as emotional release from the experience of power exchange and being in an altered state," Rev. Rucifer explains. "Some also experience "rope drop" which is a general feeling of malaise that can occur up to a few days after a scene."
After sex, it is important to practice aftercare. This applies to both BDSM and regular sex.
Get to know the experts
There are many options for finding professional information about Shibari. Sites such as www.shibari.org contain tons of helpful tutorials and educational materials. Shibari Study. They offer a variety of apps, courses and teaching materials, as well as all the resources you could need to learn more about shibari. 
You might also find it useful to locate a local community where you can learn all about shibari. 
"I encourage all who are interested in rope bondage to find their local rope community and begin attending workshops and events aimed at education and exploration," Rev. Rucifer advises. "It is best to learn on real human bodies as you can receive feedback regarding tension, flow, and safety."
You can also learn more about shibari by reading books. "For some people getting a book would be great because they can read it in time, look at the pictures or any of the instruction books," Midori explains. 
If you have the money and the resources, you can even hire a professional to assist you in person. They will teach you and your partner how to properly do shibari. 
Shibari at Home: An Easy Exercise
Couples who are new to shibari and don't know where to start could try some very basic exercises at home that don't require tying up and only require you to be willing to embrace the powerplay. "Keep in mind the goal that is about you and yours having fun," Midori says.
Midori offers a tip for beginners who want to try shibari. 
To experiment with shibari, the submissive partner should take a bundle and grasp it with both their hands. The dominant partner will request the submissive partner to grasp the rope tightly and not let go. 
"If you said, 'All right, I want to use a rope to control your movement. Grab the rope. And if you let go, I'll stop. But as long as you don't let go, you're mine,'" Midori explains. 
This is power exchange that does not require physical restraint. It can be as effective as actually tying your partner using a rope, but it's more user-friendly. "Technically, that is rope bondage because you are using rope to control the movement," Midori says. 
Midori says that another method is to gently wrap the rope around your hands, without actually tying it and restrainting your movements. This is a great way to experience the bondage with a way out for a person who's nervous and maybe has to learn to trust their partner slowly. 
At the end of the day, what matters the most is having fun with your partner and exploring things you're interested in exploring. If you have to take it slow, do so. Communicate with your partner along the journey and make adjustments as needed. 
---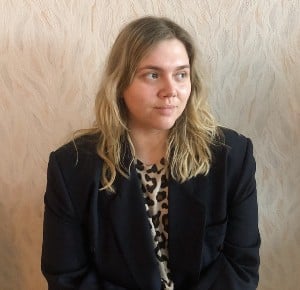 Karolina Wilde works as a writer about sexual wellness. Her work was published on The Ascent and P.S. Her work has been published on The Ascent, P.S. You can find her reading, podcasting, and creating TikTok videos in her spare time.