The last time I've seen her so happy was ten years ago, right in this restaurant, laughing with her eyes closed. Last time, she made me laugh by sitting at the same table as me.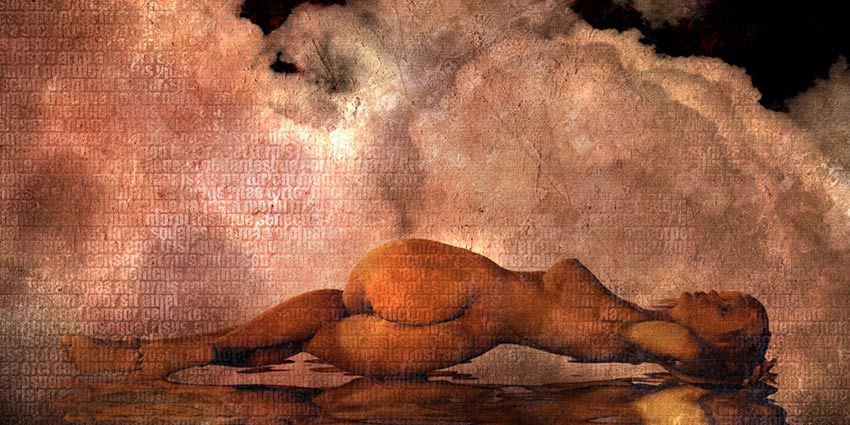 I clenched my rocks glass harder the longer I've glared at them from the end of a very long table I sat at. I heard my family's voices suddenly, but the food was still on my tongue. 
Is it possible that she chose this location for a reason. Because she couldn't forget the family dinner that I hosted at my favorite restaurant in Rome every year. 
She had to travel all the way from Chicago to be with me, as she knew she would. 
Finally, she turned her back and locked eyes with me. It was obvious that her eyes were so bright blue, even though they were hooded. She brought a glass Champaign to her lips and she was still looking at me. 
I excused myself from the table and walked over the long bar to the other side, emptying my glasses along the way. 
"Lagavulin. Double, please," I asked the bartender, leaning against the bar, my back to the tables. 
I didn't hear her approach. I felt her. Her presence brought out the hairs on my back. 
Silently, she slipped onto the barstool near me, placing her purse on the top. I refused to look at her or say anything. 
"How long has it been?" Her voice was still low and soft as if it hadn't changed at all throughout all those years. 
"Too long," I answered, finally turning to face her. 
Even though her age was visible on her face, she still looked stunning. It was perfect for her. I wanted to touch her skin, looking at what had changed since she was born. 
My pants suddenly became too tight, and my cock started to grow. 
"Missed me?" she asked, her eyes roaming my face as if she was also trying to see what changed. 
"I didn't."
She smiled. "Well, I missed You. A lot."
I fisted my palms. Her eyes and her words had an uncanny ability to do incredible things for me. It appeared that she still held all power over me. 
Without a word, she stood and walked alongside the bar, her "fuck me" heels clicking on the clay floors, hips swaying. 
As she came to the end of the bar, she glanced over her shoulder and winked, before turning her head and signaling for me. 
I didn't need to be told twice. 
Glancing at my family's table, where everyone chatted and enjoyed the food without missing me, it seemed, I followed her around the bar, into the dimly lit corridor leading to the bathrooms and the staff room. 
One of the bathrooms doors was open and she was able to lean on it. Her black cocktail gown accentuated her figure perfectly. 
I approached her and she opened the door. She looked at me intently as she entered it. The door closed behind me, and I turned the key to lock it. 
We continued to stare at each other as the space shrinked, and the air was heavy with lust. I didn't think I needed her until she was there in front of me, and suddenly she was the only thing I wanted anymore. 
"Did you miss me?" she asked again, her voice husky as she placed a palm over my chest. 
I remained silent as her hand moved lower along my stomach. The skin of her fingers was still hot through my white shirt, so I didn't speak. I let out my teeth as she gripped my cock. 
"Oh, I think you did," she whispered, her mouth hovering over mine. 
Who was I kidding?! I did miss her. I missed her every single day for the last ten years, wishing that I hadn't made the mistakes that led us to where we were right now. 
I wish I knew what I had, when she was by my side. I wish I could have appreciated how soft and warm she was, how soothing her cuddles were after a hard day at work. 
I wished I hadn't traded her loyalty to someone else's passion just because I couldn't grow up into a man worthy of her quick enough. 
My throat was full of words as I gazed at her face. I held her cheek in mine and she lean into me. Before the moment was over, I pressed my lips against hers. 
I lost it when she groaned into my ear, rubbing my stomach against the bulge of my pants. I wanted her everything, and I wanted to be with her right now. 
My hands reached for her ass and I wrapped it around her before lifting her up. Her dress was so tight that she had to wrap her legs around me. She giggled and tried again. I lowered her to the floor. 
"This dress was not created for a quick fuck in the bathroom." She chuckled, wrapping her arms over my neck. 
"Did you wear it because you thought it was going to stop me?" I teased, running my hands down her thighs and gripping the hem of the dress. "That was a mistake."
I pulled the hem up and pulled the dress over my body, then over my head. Then, I let it fall to the ground beside me. As she stood before me, her chest was moving quickly and she took shallow breaths. 
She was a vision. 
I closed the distance between them, our bodies colliding. I lifted her up from the ground and cupped her in my arms. Her legs were wrapped tightly around mine. 
My cock began to twitch as my lips moved from one kiss to the next, our tongues intertwined, and she moaned once more. I was enchanted by her delicious taste and wanted to get all of it. 
I sat her down and brought her to the sink without breaking the kiss. As she quickly unbuttoned my shirt's top button, her hands reached for it. 
As she rubbed my skin, I felt a shiver down my back. It felt incredible all those years ago, and it still feels amazing today. 
I reached over and slipped my finger under her panties, sliding her legs down. She was naked before me. I then dropped to one knee and brought my face up to her core. She whimpered. 
As our eyes locked, one of her hands grasped my shoulder and the other ran through my hair. As I closed my eyes, she watched as I flickered my tongue over hers. 
After a while, her eyes shut, her back arched as she gasped for pleasure. I then licked her and sucked on her, my cock becoming harder from watching her go from pleasure to pain. 
The pleasure I Her. 
As her hips began to thrust towards me, my hair was tightening and the grip on her head tightened, I knew she was chasing after her orgasm. I put one of my fingers inside her and massaged her from her inside. Next, I added another.
"Oh, yes," she gasped, rolling her hips. "Oh, please."
I smiled at myself, as she moved and arched her body in search of a release. I could do it all night long and never get tired. 
I could feel her crying out as her muscles tightened and her orgasm washed over my body. I gave her a gentle kiss and rose to her feet. 
She sat down heavily and opened her eyes. The sweat had already begun to build up on her skin. I let my hard cock out and unbuckled my belt. She licked my lips as she looked between us. 
"God, I've forgotten how big you are," she whispered, bringing her hips to the edge of the sink, her thighs pressing around me.
My cock followed me to her entry, barely able o keep my hands from wanting her so badly. I touched her lips gently and thrust my tongue inside her mouth, filling her with all of my love. 
She cried, and she pushed her nails into my back. My insides were charred. My skin was burning. My skin was burning. I moved out of the way and then thrust in again. Her breasts tilted as she pulled me closer. 
Soon, I couldn't control the hunger inside me, and slow teasing thrusts turned into faster, more demanding ones as our bodies collided, the sound of skin on skin echoing in the bathroom. 
You might hear someone behind the door. I didn't care about that, though, buried deep inside her, feeling the warmth around my cock and her breath over my lips.
"Harder," she demanded, breathless.
I gripped her hips tightly, holding her in place, as I dove deeper inside her, feeling the heat pool to my stomach, and my balls. I wasn't going to last much longer. 
Reaching for her with one hand, my thumb slipped over her wet clit. I kept pounding in her ear, and her body began to tensify, her legs tightening around me. 
Her warm, cuddling pussy squeezed me and I groaned, pushing harder, trying to get my own orgasm. I felt trembling inside as I took three more thrusts.
This felt so good, God. Better More than just good. 
We lingered there for several more minutes, breathing together and letting our bodies sink from the high. After that, I zipped my pants up and helped her clean. 
As I finished buttoning my shirt up, ready to go back, I pulled her to my chest and said, "Lose the guy. You're having dinner with the family."
Ten years ago, she was let go by me. I wasn't about to repeat the same mistake again. 
---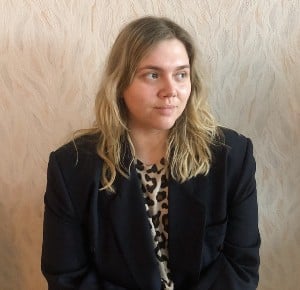 Karolina Wilde, a writer on sexual wellness, is her name. Her work was published on The Ascent, P.S. She has published work on I Love You and Sexography to over 25,000+ people. You can find her reading, podcasting, and creating TikTok videos in her spare time.