My man pushes against the wall, in front of our condo entrance door. My jaw is grabbed by his left hand as he French kisses you passionately. My belt is still loosening from his right hand. From the moment we entered that taxi, our fever was overwhelming. We're not the makeup sex type of couple, but damn, it sure feels good knowing he still desires me after 12 years together. Was there anything we disagreed about? He has my cock in hand, so all that matters is irrelevant.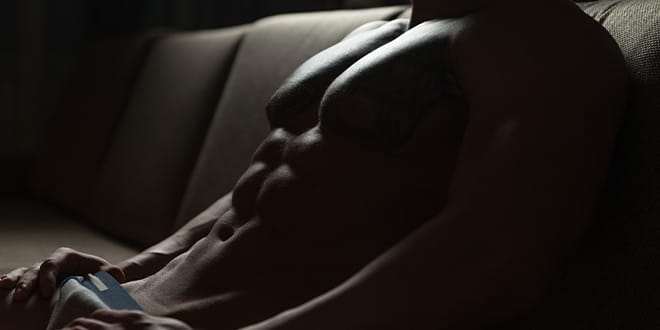 "I want to make you cum so bad," he says to me bluntly.
"Let's annoy the neighbours then," I reply, then I ask our voice assistant "put on our sex playlist. Loud!"
He closes the door, and we both kick off our shoes. He barely touched me but I'm hard as a young stud for his first crush. So excited, I'm having a hard time taking off my jeans.
"Need a hand?" he asks as he throws his pants at me playfully.
"More like two, baby," I respond. He raises my legs and places me on the stool at the door. As he lowers his jeans, I grab onto the stool. I'm sitting naked with only my favourite t-shirt on my back. He unbuttons his shirt slowly and with a smirk he says to me, "I'm stripping and you ain't jerking off? Shame…" 
It doesn't take more for me to start waxing it. 
After a quick show, he walks towards my quivering limb with his naked Adonis body. As I continue my motion, he leans in and pulls out his tongue. He takes a few drops and then slobbers. Warm saliva beads drip down my penis and scrotum. He firmly grips my wrists as I speed up my pace and stops me cumming. 
"No," he scolds.
I'm exhaling fast, my heart is pumping, but my arousal level stabilizes. He grabs my wrists and puts my dick in my mouth. It doesn't make sense to me how amazing it is for him to sucking dick without much practice. I'm really a bad husband. He gets to know me well, and can keep me on my toes while I pump the fucking blood out of his shaft.
"You're too good to me," I let out, "I don't deserve it."
He smiled at me with a devilish smile, as if I had somehow sparked some gay pornstar boss in him. He then spits in my hand, wets his erection and rubs it against mine. He begins to jerk off our sexes and slides them together with his spat. He grips them tighter as they glide and grind. He increases the speed. 
I love his cock. I want his bird. I want his cock. 
He then plays with my balls and pulls on them to get me down on the stool. He takes me by the balls to our living room sofa. He quickly takes off my t-shirt, and I throw it on the ground with the rest.
"Now you don't fucking move until I say so are we clear?"
"Clear."
He French kisses me more, then goes back to his cock. He gives me the sloppiest blowjob I've had in… way too long. He walks up to me on the sofa, his hard dick in his face. I want to suck on them so bad in order to give back some of the pleasure he's given me. But I'm an obedient bitch, and he has a huge smile on his face because of it.
"Good boy."
He leans down and spits in the hand of his opponent, before he starts to wet his underarms. 
"Yes. This is happening," he whispers.
He slowly inserts me into my cock while he sits on mine. The saliva works well as it goes into au-naturel. When my glan is completely swallowed by his spit, he bites his lips. He starts to move up and down on my dick. I bite him. I don't even remember the last time he allowed me inside him. It's been ages. 
He starts to rotate his hips and I'm struggling to hold it together. I'm balls deep inside my husband and he's grabbing me by the neck. I take 2 of his fingers and suck them as if they were mine. He starts masturbating and takes them out.
I feel young again. I feel beautiful. It is coming. He knows it. 
He accelerates the jerking while he slows down his fucking. He turns his back on me, my shaft still warm and wet. His breath is faster than his hand's motion, and we kiss mid-kiss.
"I wanna fuck your mouth now."
What can I do but say no? After his memorable performance, it's the least I could do.
"Do it," I say.
He sits back on the sofa in the exact same position as before. However, this time his mouth is open. My goddamn throat wants his manhood. He stands on the sofa with one foot and his perfect pecker is right in front of my face. I'm ready, and so is he.
With both hands on the wall, he's mouth-fucking me slowly while looking down at me. I decide to break the no-move rule by placing one hand on his bum and the other on mine penis. I want to be there for him. 
My saliva can be felt running down my chest, and my chin. As he continues to touch my lips, his strong back is sweating. As he watches me, my tongue keeps his shaft warm and wet. He cums in my mouth, without a glance. I take it all, and then I suck it all from his shaft. He steps back and I marvel at his statuesque figure, which is glistening with sweat. He slowly walks back and I continue jerking. 
I'm confused. What's the next step of this sex-drenched evening? Are the toys going to be removed? Are you going to put cum on his flawless face?
"Remember how fucking amazing I am at fucking you the next time you want to argue with me for a dining set," he lashes out.
Then, he vanishes in the bathroom.
"What, are you fucking kidding me? You're still mad about that?"
Silence… 
Then, his head pokes out from the doorframe.
"Kidding!" he yells in turn. "Now get your ass in the shower and spray my face with jizz."
I don't deserve the man.
---
Mister Bone is a part time screenwriter who penned his first erotic short story for Volonté. While he has a natural interest in erotic art, especially photography, writing is his growing passion. To share my fantasies and experience with anyone who wishes to read them.