As a reader of this blog and someone who is obviously curious about the world of sex beyond just what is presented to them in mass media, you're no doubt Shibari is a well-known name, even if you don't know it by name.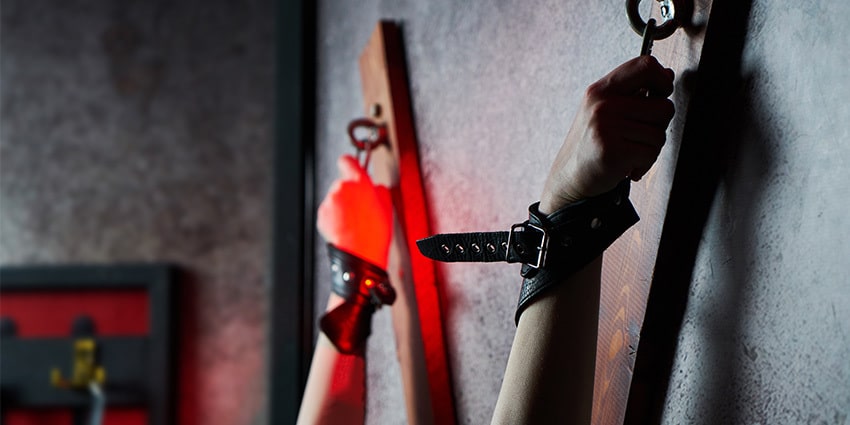 Shibari, which simply enough means 'tying' in Japanese, is a contemporary style of rope bondage from Japan.
Due to its nature of restraint it could be considered a BDSM-related practice. While BDSM covers a wide range of punishments and pleasures such as chains, handcuffs and ties are all used, Shibari focuses more on the relationship between tie-er/tie-ee and the unique aesthetics possible. 
This isn't to say That BDSM isn't about trust (because it very much is), but that Shibari is much, much more focused on the aesthetics and trust at the exclusion of all of the other things that BDSM is all about, including pleasure, for many rope bondage practitioners.
To some, Shibari is a way of meditation and relaxation, combining a psychological connection between partners that results in an aesthetic result–what other couples' activity can you think of that can do that?
'Why should me and my partner try Japanese Rope Bondage?'
Other than what was said about Shibari as an exercise of trust to an artistic end it also fosters trust between the bounder-boundee.
Japanese rope bondage doesn't involve punishing or trapping your spouse as in a BDSM scenario. It is more about surrendering to your partner. If the boundee gives in to the control of their partner, then they have a deep responsibility towards their partner to protect them and make sure this binding goes smoothly.
'Where do we start with Shibari?'
You will need to practice and think carefully before you can tie up your partner in the manner outlined by kinbaku. Like everything else, there are limitations. a number Of Amazing resources on YouTube to get you started with examples of the different knots and techniques for every level–this is all assuming of course that you've bought yourself a couple of coils of Shibari rope.
You can begin by making different binding braids and knots with your first Japanese rope bondage rope. This won't only teach you how to do the different knots, but also give you an idea for how tight you will want to make them when it comes time to bind your partner.
But before you do all of that, you'll have needed to establish a very good level of communication beyond the basic advice of establishing a safe word like 'firetruck!' when things perhaps feel too weird to continue. It is important to have a conversation before you tie your partner up. This will allow you to get a better understanding of their signals and tells.
Questions like "How will I know if you're enjoying yourself?" and "how about if you're not enjoying yourself?" are the places to start. Even though the answers to these might be evident, seeing as how you know the person you'll be tying up, asking and having to put it into words will clarify things even more for both parties.
'What does a Shibari session look like?'
You and your partner can both interpret this part. For instance, the boundee can choose to be nude or clothed–in which case, tights and a workout top will be fine. Too loose clothing can cause knots to bind or buckle, and may also interfere with the tying process. 
You can also decide (via a conversation beforehand) what type of attitude or vibes are you bringing to the Shibari community. Is it one of care or menace? You can tell the difference between a session that is filled with naughtiness and one that is full of tenderness. It's worth taking the time to determine this beforehand.
Finally, as the bounder needs to see what it is they're doing, the room should be a well-lit one. But the person being tied up must be able to see. Wear a blindfold They can also choose to intensify their sensations. Both the bounder and the boundee can agree to lift the blindfold at the end to expose the intricate ropework.
One of the most fun things of all though will be the untying process–be sure to take your time with it, as it can feel really good to have the ropes slide off and loosen, freeing the tied-up partner.
---

Colin Hanna is a Volonté contributor and freelance writer who lives in Shanghai, China with his wife. He's written extensively about sex and human sexuality for LELO since 2010.